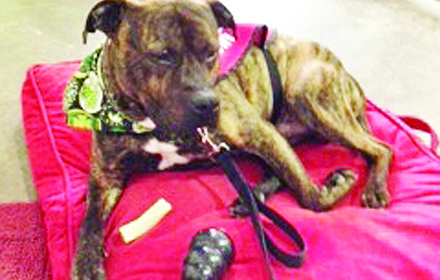 John is looking for a home! This handsome boy is an adult, medium-energy pit bull mix. He is a Canine Ambassador and has honorably represented the shelter at many events. He's a fantastic dog — he loves everyone, is good on a leash, great in the car and very gentle with children. He's a shelter favorite, but he's ready to have a home. Once you meet this brindle beauty, you'll see what a special dog he is. Call the CNYSPCA at 454-4479 and ask about John.
May 18, 2015
CNY Prime Stories

Bud wants to be your new best friend. He's a mystery dog. Is he a terrier mix? A lab mix? Nobody knows for sure.

The Shacksboro Museum's Joy Swensen recently accompanied her father on an Honor Flight to Washington, D.C. She shared her experience with the Messenger.
You're making a pledge to get healthier this New Year. You found your sneakers and dusted off the treadmill you were using as a closet. Your yoga pants are no longer just a fashion choice — they are ready to do actual yoga. Now you've got to find the time in your day — 30 minutes minimum for heart health — to get physically active. The American Heart Association says there are plenty of easy, no-cost ways to do it.
The Vietnam Veterans Memorial Fund seeks to locate photos of all those killed during the conflict in Vietnam. So far, organizers have collected nearly 34,000 photos of 58,286 casualties. The photos are being displayed on a virtual "Wall of Faces," which can be found at vvmf.org/Wall-of-Faces.
The 2014 DeVesty-Williams Scholarship will be awarded in early May by members of the Syracuse Press Club at its annual awards banquet. This $2,000 scholarship will be given to one full-time undergraduate student, who is majoring in print or broadcast journalism at a college/university in the Syracuse Press Club service area. The student scholarship recipient also must be a permanent resident of one of the following counties: Onondaga, Madison, Cortland, Cayuga, Oswego, Jefferson, St. Lawrence, Lewis, Herkimer, Oneida, Otsego, Delaware, Chenango, Broome, Tioga, Chemung, Tompkins, Wayne, Seneca, Schuyler and Yates. A student's college residence is not considered a permanent residence. All students who fit the above criteria are encouraged to apply.
The lack of available help from senior care agencies is just one of the reasons New York state was ranked 48th in a 2011 national report by AARP's Public Policy Institute, the Commonwealth Fund and the SCAN Foundation out of 50 states with regard to support for its family caregivers. Caregivers also face extensive waiting lists for adult day care programs and rehab facilities, a lack of support for in the work environment, limited or no access to transportation and inadequate informational resources regarding care options for their loved ones. And with the Baby Boomer generation moving into their golden years, the problem is only going to get worse.

'Tis the season of giving, and you needn't look too far to find a worthy recipient for your time and financial donations. Central New York has a wealth of deserving organizations doing good, and they're all in need of your support. To get you started, here's an A-to-Z primer (minus X), complete with a description of each along with websites, contact information and basic needs. Remember, these are just a few of the many deserving nonprofits in Central New York, and the introductions offered barely scratch the surface of the services they offer. Check out the websites of these organizations for more information. Got your own favorites? Feel free to share at Facebook.com/eaglestarreview.

The smell of Laurie Farrell's daughter is starting to fade from the box of mementos she brought home from the hospital five years ago. The contents of the hand-painted box — a Beanie Baby, a receiving blanket, a small knitted cap, a crocheted blanket, a tiny gold ring and a bracelet — is all Farrell has left of her little girl. Emily was stillborn in November of 2008. "These are things she wore, and these are amazing mementos for me as a parent," said Farrell, of Onondaga Hill. "Every year when I open it up on the anniversary date, I can still smell her."

Shutdown won't deter local veterans' visit to DC memorials
Volunteers and vets with Honor Flight Syracuse tore down a roadblock at the Iwo Jima Memorial and crossed the barrier at the Lincoln Memorial during their trip to Washington on Saturday, Oct. 5, refusing to let a government shutdown bar them from visiting national memorials to themselves, their comrades and their military branches of service.

In a secure courtyard near Syracuse's Inner Harbor, on a daily basis, you can find a gathering of people engaged in any number of activities. They might be playing Bingo or trivia. They might be working on a small building project. If you head into the indoor area, you might find them baking or preparing snacks. What might surprise you is to find that all of these men and women have Alzheimer's disease or some form of dementia. The Kirkpatrick Day Program is a social adult day program provided by the Alzheimer's Association of Central New York. The program, which dates back to the early 1980s, came under the auspices of the Alzheimer's Association in 1987.
Lauren Dodge knows all too well the pain of losing someone to suicide. "I got involved with [Stand Against Suicide] because of the friends that I lost to suicide growing up," said Dodge, who lives in Liverpool. "I not only felt the direct heartbreak of losing a friend, but I also saw what their families had to go through after losing their child." The worst part was that no one was able to talk about it. "Experiencing the loss of a friend to suicide when it was a 'hush-hush subject' in high school made the loss very difficult to cope with," Dodge said. That's why Dodge became secretary of Stand Against Suicide (SAS), which was founded in 2010 by Tara Dennee in memory of her father, Wayne Olmstead, who died by suicide in 2008. The Elbridge-based organization gained nonprofit status in 2012. It seeks to raise awareness about the risks of mental illness and to encourage those in need to get help. Through a grant from the Pepsi Foundation and local fundraisers, Stand Against Suicide seeks to erase the stigma surrounding the discussion of mental illness and suicide. SAS hosts support group meetings every Tuesday at the Elbridge Community Church for those who have lost a loved one to suicide, for those struggling with depression or other mental illness and their family members and for volunteers looking to help.