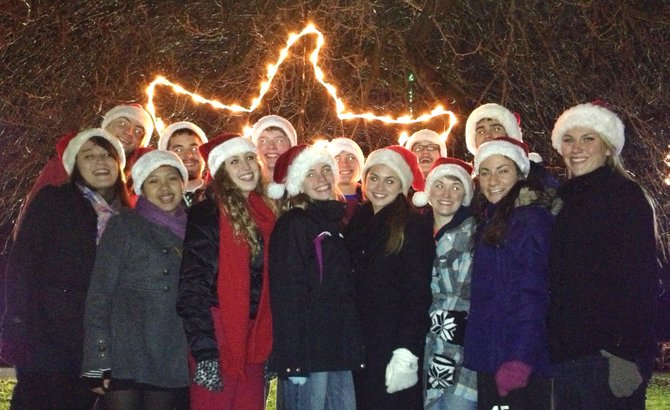 Cazenovia — For most of the year, there's a pile of Santa hats stowed away in the choir room at Cazenovia High School — they come out of hiding every December so members of the school's Chamber Choir can don them when they sing at various spots around Cazenovia.
The holiday concert tour, Santa hats and all, is a yearly tradition.
"We sing between 12 and 15 performances in the month of December," said Teresa Campbell, who heads up the music department at Cazenovia. This is her 13th year directing the group.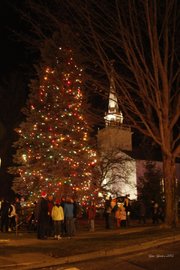 "I know that the students look especially forward to these performances," she said. "They improve each time we sing at a new venue and are very strong by the time we get to the Christmas break."
Area residents may have seen them perform a number of holiday songs and carols this past Friday, Nov. 30, at the 35th Annual Cazenovia Christmas Walk and Tree Lighting. Those that missed them — or wish to hear more — can tune to Sunny 102 at 7:25 a.m. Wednesday, Dec. 19, and hear them sing on the Big Mike Christmas Show.
The group, which consists of 14 students this year, sings all a cappella music.
"They learn a great deal about the discipline involved with performing and about the responsibility of being in a small ensemble where each person plays a significant role," Campbell said. "It is challenging to sing without accompaniment and the students learn to listen carefully and to balance their voices."
By singing without a piano, the group can perform virtually anywhere. You'd be hard pressed to find a locale in Cazenovia where they haven't sung holiday tunes.
"I think it's the excitement of singing together, for new audiences and in different locations, that keeps them going," Campbell said. "They realize their full potential and really bond with one another. I also treat them to lots of snacks and encourage them to stay hydrated and rested.
(Continued on Next Page)
Prev Next
Vote on this Story by clicking on the Icon