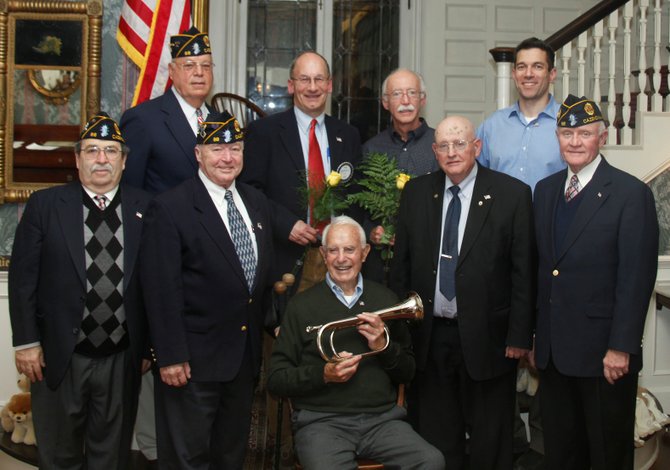 Four officers of Cazenovia American Legion Post 88 joined the members and guests of the Cazenovia Rotary Club on Monday, Nov. 12, during their regular weekly dinner meeting at the Brewster Inn to celebrate Veterans Day.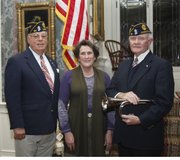 In addition, Post 88 thanked the local Rotary Club for providing the funds to purchase an American Ceremonial Bugle for use at veterans' funerals and other military and community occasions.
The American Ceremonial Bugle is a nickel silver plated 17-inch bugle with a programmable silver insert. This device slides into the bugle's bell and once activated plays taps and ten other pre-programmed calls such as "To The Colors" for flag ceremonies.
With the bugler shortage in mind, Congress passed a law that took effect in January 2000 that allows a recorded version of taps using audio equipment if a live horn player is not available.
The American Ceremonial Bugle is a dignified alternative to prerecorded taps played on a stereo or compact disc player.
It provides a solemn visual image of a bugler playing taps. It is this visual image that is so important to the family of the deceased veterans.
Al Keilen is Public Relations Chair for Cazenovia American Legion Post 88. He can be reached at 655-3742 or alexwkn@aol.com.
Vote on this Story by clicking on the Icon