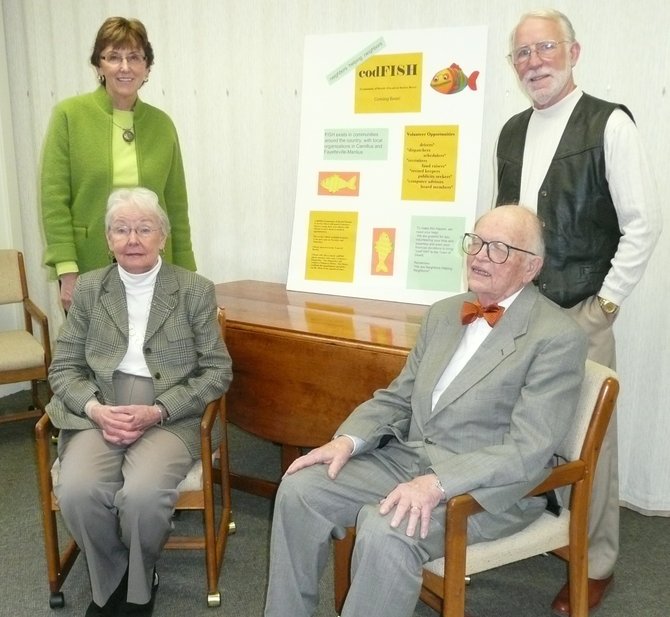 DeWitt — For more than 30 years, Fayetteville-Manlius seniors have relied on F-M FISH volunteer drivers for rides to medical appointments. And now, a group of volunteers is rolling out a similar program in DeWitt.
Community of Dewitt Friends in Service Here, or codFISH, began offering rides to DeWitt residents on Tuesday.
"Our only purpose is to provide free transportation to medical appointments for adults who live in the town of Dewitt," said Jean Kimber, who co-chairs the program with Ginny Frey. She added that to qualify for a ride, you must live in the town and have no other means of transportation.
The idea to start the program was formed one year ago, when Frey met several members of F-M FISH. She realized the service was needed in Dewitt, Kimber said, "as many adults, particularly the elderly, have problems getting to medical appointments."
"Bob Duncanson and Ken Henry, from F-M FISH, met with members of several local churches to describe their program and encouraged us to start a similar program in DeWitt," she said.
Kimber and Frey are both members of St. David's Church in DeWitt.
"At our first meeting, we had representatives from Dewitt Community Church, Jamesville Community Church, Holy Cross Church, Pebble Hill Presbyterian Church as well as St. David's," Kimber said. "Members of the Town of Dewitt Senior Advisory Committee, Jack Dooling, Jane Gershaw and Chuck Prutzman, also recognized the need and joined our group to turn this idea into a reality."
The program, which runs entirely on donations, has a humble seven volunteer drivers that are on call to give rides from 9 a.m. to 4 p.m. Tuesdays and Thursdays.
"As codFISH grows, we will require more drivers and volunteers," Kimber said. "We hope that the number of volunteers will grow along with our client list. The F-M FISH currently has 97 drivers — something to aspire to!"
(Continued on Next Page)
Prev Next
Vote on this Story by clicking on the Icon