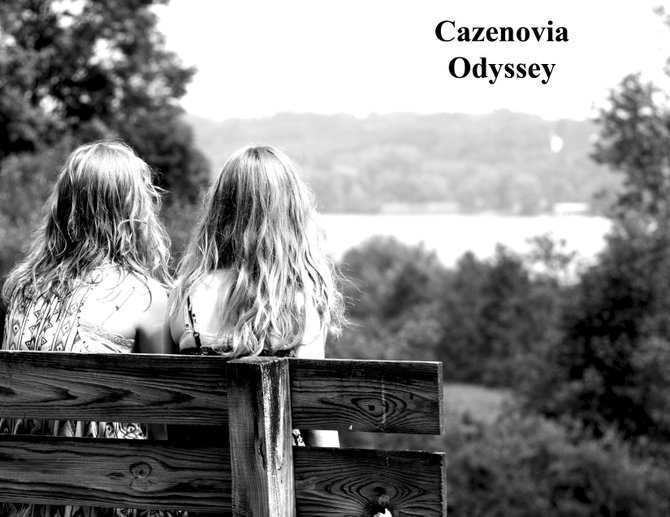 Cazenovia — At Cazenovia High School, there is a special club dedicated to visual arts and writing.
This group is called the Cazenovia Odyssey Club. It was founded by Noah Zinsmeister in 2010, and has been running ever since under the guidance of English teacher Christie Brenneck. Along with Zinsmeister, Ian Abernathy and Caroline Marshall created the club in hopes of pulling the social eye towards the importance of arts in schools.
Each year, the club asks students who are involved in art and creative writing if they would submit some pieces of their artwork and/or writing to the yearly collaboration of the magazine called "Cazenovia Odyssey," which is then sold to raise funds for the printing of the next volume of the magazine.
The club has continued to grow in population and popularity. The first year had no more than six participants. However, last year there were about nine students. This year there are 26 members, which is triple last year's amount.
But not only is the Odyssey gaining members, it's also receiving more submissions. From the first year, which only had 30 entries published, last year had 70.
In the Cazenovia Odyssey Club, members work together to let others know about the importance of art and creative writing in the local high school. The group receives submissions from students in grades 8 through 12, and organizes them all into categories and sections.
Traditionally, members will pair up a piece of writing with a piece of matching art, which can help the reader visualize the emotions and feelings that the author may have been expressing through their writing.
The Cazenovia Odyssey Club recently held a concession sale, with all proceeds being put toward paying for the printing costs of the upcoming edition, which will be released this spring.
Many have said they enjoy being a part of the Odyssey because it helps them learn about other people through their literary pieces and artistic collaborations, and also can increase their personal vocabulary. Readers can learn about locals' artistic talents — that may not have been widely-known — and it's also a great way for participants to get involved in a school activity.
As the interest of the club increases, the group hopes that the awareness of art does, too.
Those who would like to purchase a copy of the 2012 Cazenovia Odyssey for $2 can email Brenneck at cbrenneck@caz.cnyric.org. All sale proceeds also go toward the publication's printing costs.
Orresta Paddock is a Cazenovia High School student and member of the Cazenovia Odyssey Club. They can be reached through Christie Brenneck, at cbrenneck@caz.cnyric.org.
Vote on this Story by clicking on the Icon