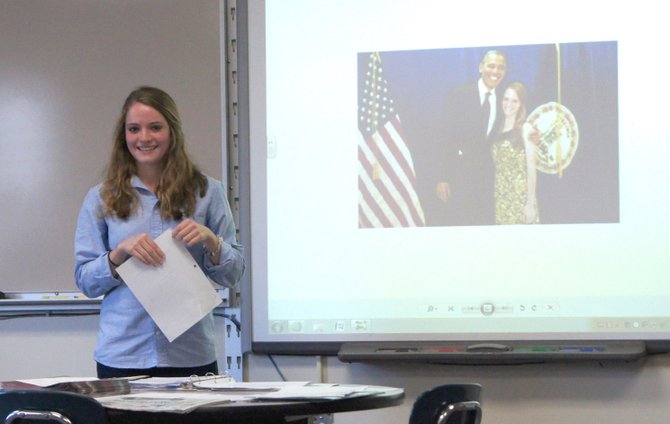 Cazenovia — One year after graduating from Cazenovia High School and becoming a field organizer for President Barack Obama, Caroline Marshall found herself walking the familiar hallways once again. She visited Kurt Wheeler's Advanced Placement United States Government and Politics class the morning on Dec. 4 to share her experiences with senior students.
Marshall, who took a gap year to assist with the Obama campaign, was a fellow (full time volunteer) from mid-August to early September before being hired as a field organizer. She plans to attend Harvard University in the fall. While Marshall hasn't firmly decided on a concentration, she said she is leaning in the direction of history and government.
"It was great [being a guest speaker]. I learned so much in my three years in Mr. Wheeler's class, and it was such an honor to be asked back," Marshall said after her visit. "I am so fortunate for the experience I had in Virginia on the campaign. I worked with the most inspirational and interesting people, and was able to work in a positive and innovative environment. I am so happy to have had the opportunity to take a gap year before college to gain perspective and experience working for a presidential campaign."
As one of about 200 field organizers in Virgina, Marshall was tasked daily with managing her allotted volunteer base, planning for upcoming action canvasses, making voter contact dials and recruiting more volunteers, as well as organizing her volunteer structure for Get out the Vote and Election Day.
Marshall's assigned district of Chesapeake Va., was divided up into six precincts: Tanglewood, South Norfolk, Johnson Park, Providence, Oaklette and Norfolk Highlands. Marshall said it wasn't easy to recruit volunteers, however she and her coworkers found success in canvassing.
While traveling the surrounding neighborhoods, Marshall visited residencies of undecided voters and Obama supporters, hoping to disseminate information and get a feel for how Election Day would pan out.
(Continued on Next Page)
Prev Next
Vote on this Story by clicking on the Icon