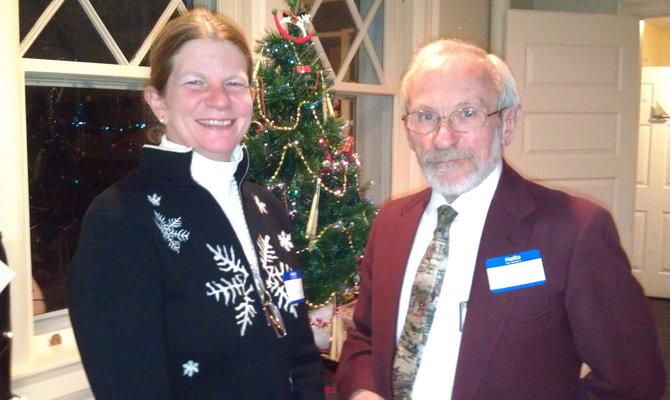 Cazenovia — The last year was an active one for 5 Ledyard Corporation, located at 5 Ledyard Ave. in Cazenovia, as the building was a venue for a number of community events.
The first event of 2012 to be held at 5 Ledyard Ave. was the annual Greater Cazenovia Area Chamber of Commerce State of the Area meeting. The 110 GCACC members in attendance were joined by numerous community members, and together all were briefed on the organization's accomplishments to date and future plans for gains in the surrounding areas. The meeting's panel of presenters included New York Sate Assemblyman Bill Magee, Senator David Valesky, Neslon Town Supervisor Roger Bradstreet, Cazenovia Central School District Superintendent Bob Dubik and Cazenovia Town Supervisor Ralph Monforte.
The next meeting was held by Eastern Hills Bible Church Christian athletes and led by David Peterson, Paul Holgate and Nick Tedesco.
During the summer, Sue Berger of Common Grounds Inc. called a meeting to order at 5 Ledyard Ave., which included a number of representatives for local non-profit organizations. 5 Ledyard Corp. officials said the time each representative puts toward bettering the community is to be admired and emulated by other community organizations.
In October, Cazenovia Garden Club President and Event Coordinator Joan Keilen held the group's annual meeting, which was attended by 55 club members. The fresh seasonal plantings the group cooperatively produces for the enjoyment of Cazenovia residents is commendable, and second-to-none in the country.
Cazenovia Preservation Foundation President Carlos Gavilondo also held a meeting at 5 Ledyard Ave., as well as Liz Moran, of the Cazenovia Democratic Committee.
The final function of the year was the annual Limestone Creek Hunt Club holiday party. The event was catered by Jim and Val Barr, or the Brae Loch. President Jenny Coughlin, Sandy Patrizio and Kathy Leonard organized the annual gathering, which many of the group's members — who regularly serve the community in other capacities — enthusiastically attended.
Representatives of 5 Ledyard Corp. said they will continue to offer the use of space at their headquarter location to the greater Cazenovia community, and look forward to continuing to work within the community, and support residents' fine efforts.
For more information on the company, or to schedule plans for a meeting, contact Vice President of Administration Eric Weber at (877) 341-3342.
Vote on this Story by clicking on the Icon