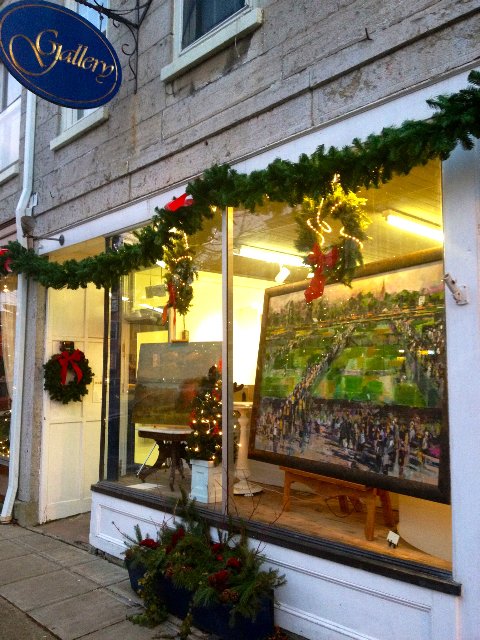 Cazenovia — Jennifer Schutzendorf, the proprietor of The Gallery of CNY, recently announced she is looking to sell the space at 58 Albany St. after six years of ownership. In preparation for the transition, Schutzendorf will host a "Last Blast event from 11 a.m. to 4 p.m. Saturday, Dec. 15.
"I'm looking for someone to take over the business, otherwise it will close early next year. My wish is that someone with passion for the arts will take over the business and continue the tradition of supporting some of our best and most original artists in Central New York," Schutzendorf said. "That said, I am proud of the work we have done. I have sold over 1,100 original paintings since 2007. I have been able to grow and sustain a profitable business, while gaining national recognition and increasing interest and appreciation for fine art in Central New York."
The Last Blast will act as an open house for area residents to visit and view more than 250 paintings by Central New York artists, and will include a silent auction.
Schutzendorf said smaller, collectible paintings will be available for purchase during the open house. The silent auction, which begins at 1 p.m., will afford attendees the opportunity to acquire fine works from the gallery collection. Pieces from acclaimed artists such as George Van Hook, Nicora Gangi, Drayton Jones and Sis Barnum will be auctioned, as well as 19th century oil-paintings by Dwight Williams.
Area art-enthusiasts who may not be able to attend the event are encouraged to view the whole show online, by visiting gallerycny.com. Paintings will be posted at the start of the event, at 11 a.m. on Saturday.
"If you have purchased art from the gallery, I know it will be greatly valued by future generations. Most importantly, I have enjoyed being a part of the Cazenovia community," Schutzendorf said. "If you know someone who may be interested in carrying on The Gallery of CNY, please let me know. I will be ... committed to helping someone transition into the business."
Schutzendorf can be reached at 559-6156 or email jennifer@gallerycny.com.
Pierce Smith is editor of the Cazenovia Republican. He can be reached at 434-8889 ext. 338 or editor@cazenoviarepublican.com.
Vote on this Story by clicking on the Icon