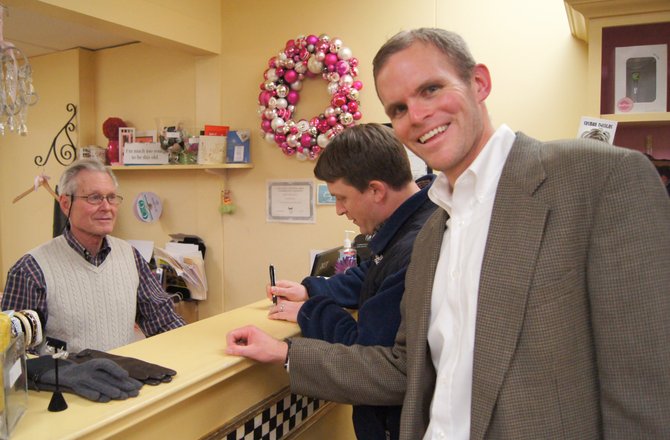 Cazenovia — For the 11th year, local men gathered in downtown Cazenovia to complete their holiday shopping under the cover of darkness while enjoying some camaraderie.
Men's Night Out, which was sponsored by the Greater Cazenovia Area Chamber of Commerce and the Historic Cazenovia Business District, afforded area men the opportunity to patronize area shops during and unwind with some spirits at the Lincklaen House the night of Thursday, Dec. 13.
"This year's event was very well attended. We had a great turnout," said GCACC Chairman Gene Gissin. "The stores all seemed to have people shopping in small groups, which I think is nice to see, having less crowds and being able to browse easily. The streets weren't as busy as say, Broadway, but shoppers were all able to quickly get from one place to the other."
While the brisk temperatures kept the sidewalks clear of crowds, the local stores were brimming with customers. Cash registers were busy calculating totals while store owners happily assisted about 100 men in finding unique gifts for each person on their list.
Cazenovia Jewelry owners Ralph Monforte and Susan Machamer managed a steady stream of shoppers for the entirety of the event, which they said they were delighted to be a part of every year.
"This is very exciting for us. We've been here for 28 years, and been a part of this event for the last 11 years," Monforte said in between helping customers last Thursday. "It just gets better and better every year. There's nothing like Cazenovia during the holidays."
"Sales have been pretty good," Machamer said. "We've seen a large amount of people tonight, and everyone is in a festive mood."
Further down Albany Street, Isabella owners Karen and Dave Eldridge were also on their way "into the black," as groups of local men carefully perused the boutique's many offerings.
(Continued on Next Page)
Prev Next
Vote on this Story by clicking on the Icon