In "Life of Pi," director Ang Lee portrays a young man's survival, floating nine months across the Pacific, as a story of faith.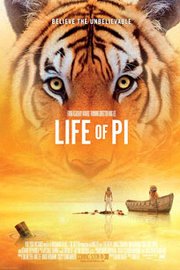 Sounds boring; it's anything but. The film is wonderfully rendered, mystical and tense. It is bright, vivid and fiercely beautiful, and because of Pi's unique companion, the observer questions less the personal hardships at sea than the progression of events.
What happens next? The story is enhanced from the context of a young Indian man, with his great lilting English and deep abstract logic of the sub-continent.
Pi tells his own story — how he found God — in flashback, beginning as a young man (Suraj Sharma) in the French section of India. His parents own the animals in a zoo and they must move. They pack up their animals, the prize of which is a fully mature Bengal tiger, and join them on a steamer headed for Canada.
In a fantastic scene, the ship sinks in a storm. Pi is the only survivor, in a lifeboat, barring a few animals including the tiger. Soon it is just Pi and the tiger, forcing Pi to build a raft and live by clever ingenuity. Eventually, his care and feeding of the tiger — without becoming the tiger's next meal — is the challenge that keeps him alive as they drift across the ocean.
Nine months they survive this testy existence, eventually forming a kind of trust. On finally landing ashore, the tiger finds the jungle, his natural habitat, and fades away.
Or so it seems. Was the tiger Pi's creation, less painful than reality? Was he a byproduct of determination and faith, surfacing purely to enable his survival?
Floating across the Pacific with a hungry and legitimately lethal tiger is a fantastically original story. As portrayed, it is also beautiful and wonderfully thrilling to watch.
Jim Wigge is a Cazenovia resident who reviews movies for the Cazenovia Republican. He can be reached through the editor at editor@cazenoviarepublican.com.
Vote on this Story by clicking on the Icon