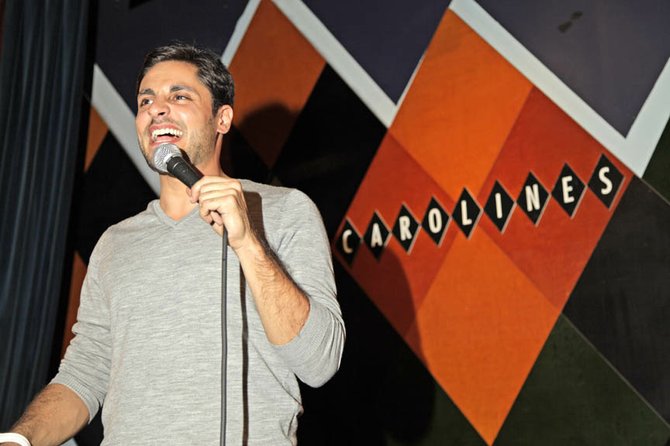 Baldwinsville — Everyone needs a laugh this time of the year. It's fair to say that's why Baldwinsville's own Dan Frigolette is offering five opportunities to laugh this December.
You may know his face as winner of the second annual "Mr. Baldwinsville" competition back in 2001, possibly his first touch at the comedy genre; you might even recognize his voice from his years on WBXL "The Buzz" or WJPZ "Z89" as radio personality "Danny Shays;" but what you might not realize is Frigolette has become a recognizable face in New York City.
Frigolette started his comedy career in Syracuse as a 20 year-old convincing Joe DeLion of Syracuse's Viva Debris to ignore his age and let him into the comedy club. He first performed there in 2002 just one year before the club closed its doors for good. Undiscouraged, Frigolette continued performing using Syracuse University as a platform, creating stand-alone shows in the student space at the college inviting his family and anyone else on campus to come and see him.
He graduated Syracuse University in 2005 and moved to New York with a full car and an open mind. Frigolette began creating shows and college tours showcasing himself and other great comedians he has met along the way. By 2008, he was responsible for more than 150 shows, tours and short films through his production company - Comma, D Productions.
"I used what I knew to push me forward in the industry," Frigolette said of his voluntary role as a producer early on in his career. "I wasn't a headlining comedian yet so I worked with the best and focused on the skills I needed to improve on."
In 2010 he created the Hoboken Comedy Festival that celebrated its third year successful year in 2012 with more than 700 patrons in attendance. The festival, whose goal it is to "Celebrate Hoboken's Entertainment Independence," raised more than $1,100 for the Liberty Humane Society, which supports dog adoption services and low cost animal vaccinations in Hudson County, and brought more than 30 comedians to Hoboken over five days.
(Continued on Next Page)
Prev Next
Vote on this Story by clicking on the Icon