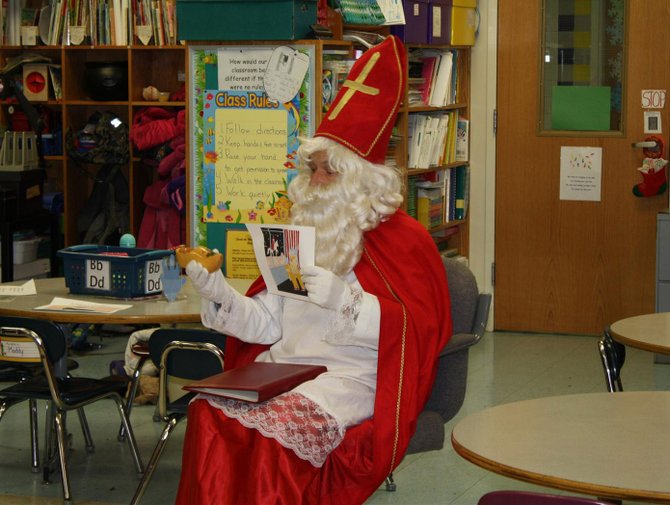 Cazenovia — On Friday, Dec. 7, the first-grade students in Dixie Conway's class and Sharon Gifford's second-grade students at Burton Street Elementary School in Cazenovia had a surprise visit from Sinterklaas, patron saint of children (also known as St. Nicholas).
Elegantly garbed in a bishop's tall hat, red cape, shiny ring and jeweled staff, Joost Brasz, originally from Holland, and his wife Ulla, originally from Sweden, took time during this busy season to share the Dutch tradition of Sinterklaas with the children.
The couple brought koekjes (the Dutch word for cookies) and a gift for each child, and taught them the St. Nicolas song.
Dutch children believe that Sinterklaas writes down whether they've been naughty or nice in his red book. Every year, on the night of Dec. 5 to 6, Saint Nicolas brings presents to all the children who have been good. That evening, children put out a shoe in front of the fireplace and put a carrot or a turnip in it for the horse of Saint Nicolas, hoping St. Nicholas will exchange them for presents if they were good.
The children said they enjoyed visiting with Sinterklaas and learning more about holiday traditions in other countries. As it turns out, the students noted, the customs are quite similar.
Vote on this Story by clicking on the Icon