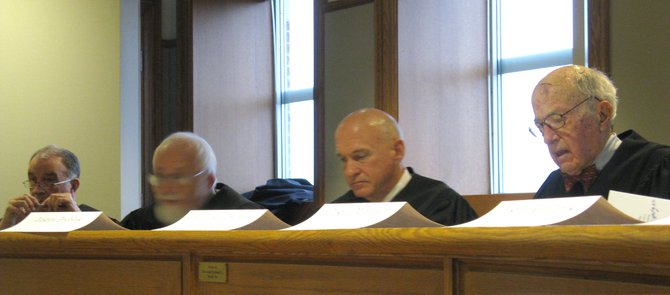 On Monday, Dec. 10 at Syracuse Law School, a panel of judges, lawyers and law professors, known as the Room 400 Supreme Court, "decided" one of the most significant and closely-watched cases on the current United States Supreme Court docket.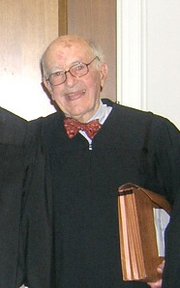 Comprising the Room 400 Supreme Court were Federal District Judge Norman Mordue, Federal Magistrate Judge David Peebles, Supreme Court Justice Deborah Karalunis, Professor Travis Lewin, Professor Tucker Culbertson and Trial Attorney Emil Rossi. Cazenovia residents Judge Stewart F. Hancock Jr. presided, and Dr. Fritz Koennecke served as court clerk.
"This was the final problem and argument for my 2012 Problem Analysis and Appellate Advocacy seminar, which I've been conducting for 18 years since I retired from the Court of Appeals," Hancock said. "[This was] one of my very best classes. [I] plan to teach at least one more year."
The case — Abigail Fisher v. University of Texas at Austin — involves the constitutionality of giving some limited degree of preference to racial minority applicants in the admissions process for entering freshmen. Petitioner Fisher, the appellant, a non-minority applicant, contends that she was denied admission as a result of this allegedly unconstitutional admissions process.
After hearing two hours of arguments by the 10 advocates from Judge Hancock's Appellate Advocacy class, the Room 400 Supreme Court, in a closely divided vote, upheld the University of Texas admissions process, rejecting the contention that it discriminated against non-minority applicants and, therefore, violated their rights under the Equal Protection Cause of the 14th Amendment.
The four-justice majority, following Justice O'Connor's 2003 opinion in Grutter vs. Bollinger, concluded that the University of Texas admissions process served a compelling state interest and that it was sufficiently narrowly tailored in furthering that interest to avoid violating the 14th Amendment Equal Protection Clause.
The Fisher case was argued before the Supreme Court on Oct. 10. A decision is expected sometime in May or June.
(Continued on Next Page)
Prev Next
Vote on this Story by clicking on the Icon