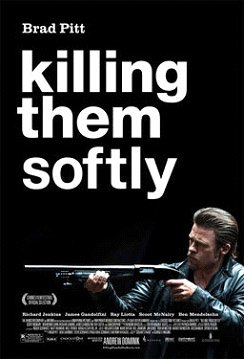 Late in "Killing Them Softly," Jackie (Brad Pitt) states that "…this country is not a democracy. All men are not created equal; Thomas Jefferson was a fraud. We are not a 'Community of One.' This is America, and America is about Business. Now pay me!"
Such is a movie oddly dominated with monologues by hard guys.
This is a film of mob retribution, presented as a metaphor for the country's business meltdown of 2008. The fact that Jackie is a serious, articulate hitman adds to the curious, quirky nature of the film. The old days of instant payback are gone. Now, the mob is run by committee and they equivocate on matters of violence. Being a hitman hardly pays anymore.
The film is presented in three parts. In the first, a local con man hires two guys to rob a high-rolling poker game that the mob sponsors. There is much planning and then the actual robbery. It is all very measured.
Second, there is payback. Jackie, and Mickey (James Gandolfini), are brought in to sort out who has done what and then take care of business. Someone has to pay, but in this environment the bosses want to discuss it first and then act.
Mickey is a tough guy who has also lost his taste for uncompromising violence. Which leaves Jackie, who has a lot to say, but finally and unequivocally gets down to business.

The end of the movie is devoted to Jackie's payoff, and his failure to receive what he is owed.
This part provides its own insights and tensions as noted above.
The script and story line are neatly integrated; its presentation is like a David Mamet stage play and the acting by all the principles — Pitt and Gandolfini, particularly — is every bit worthy of major legitimate drama.
Jim Wigge is a retired engineer, Cazenovia resident and film-aficionado, who reviews movies for the Cazenovia Republican. He can be reached through the editor, at editor@cazenoviarepublican.com.
Vote on this Story by clicking on the Icon