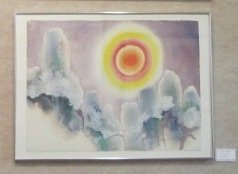 Cazenovia — "It's so nice to be able to enjoy good art without driving to a museum and spending an entire day in the process," said a recent visitor to the Cazenovia Public Library Art Gallery.
Good art is just what local residents will find in the library's art gallery with "Sylvia Wyckoff's Watercolors" on display until Jan. 31, 2013. The exquisite watercolors in this exhibition are comprised of works on loan from Cazenovia College as well as from the Cazenovia Public Library's permanent collection.
With mostly an abstract flavor, the works include such tantalizing titles as "Maskery," "Incantation," "Yellow Goes Gossamer," "Spotted Blue" and "Citrus Winter."
Sylvia Wyckoff (1915-2010) spent much of her childhood on a farm near Richfield Springs. She earned a bachelor's degree from Syracuse University in 1937 and a Master's of Fine Arts degree in 1944. She taught school in Homer and Cobleskill and joined the faculty of the Syracuse University School of Art in 1942 where she taught for 39 years.
Wyckoff moved to Cazenovia in 1975, and for over 20 years was a dispatcher for CAVAC. She was also a founder of the Cazenovia Watercolor Society that was organized in 1980. At that time, a small group of artists had been painting under Wyckoff's tutelage, and when they decided to continue meeting on a more formal basis, the Cazenovia Watercolor Society was formed.
"Sylvia Wyckoff's Watercolors" will be on display during regular hours at the Cazenovia Public Library: 9 a.m. to 9 p.m. weekdays, and 10 a.m. to 5 p.m. Saturdays.

For more information on the exhibits at the Cazenovia Public Library or other library events, call 655-9322 or visit cazenoviapubliclibrary.org.
Vote on this Story by clicking on the Icon