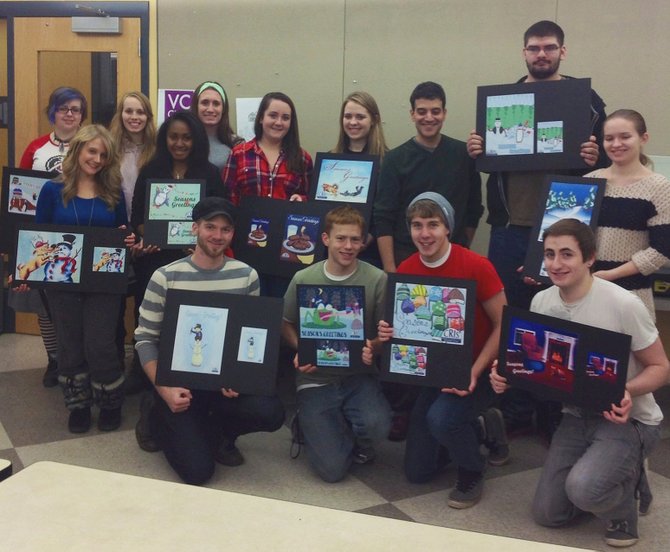 Cazenovia — Students in Dan Salamida's illustration class at Cazenovia College designed holiday cards for Community Resources for Independent Seniors to send to people who volunteer for the CRIS-CAT program, a transportation program in the Cazenovia, Nelson and Fenner areas for those over 55 who are no longer able to drive.
CRIS-CAT has more than 50 volunteer drivers who drive area residents to doctor's appointments, grocery shopping, hairdressing appointments and area events.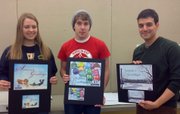 The students designed an array of cards for the CRIS Board of Directors to choose from.
"We sincerely appreciate the willingness of Laurie Selleck to suggest this project to Dan Salamida for the Illustration students. The CRIS Board thoroughly enjoyed reviewing the submissions," said CRIS Director Bonnie Slocum. "Three cards will be produced from designs by Paul Roberts, Courtenay Chambers and Katie McCutcheon, and the winning students received Caz Bucks certificates to spend in Cazenovia stores."
Slocum said Cazenovia College has also been an appreciated partner in many aspects of the CRIS Program. The CRIS logo that has become familiar to area residents was designed by a Cazenovia College student and Cazenovia College student intern Suzanne Snyder was invaluable in the development of the CRIS Senior Resource Directory as well as compiling a "Walkability Study of the Cazenovia Village."
CRIS was created to develop and advocate for supportive services to help people stay in the area for as long as possible, and currently operates the CRIS-CAT volunteer transportation program that matches volunteers with residents of Cazenovia, Nelson and Fenner over the age of 55 who need transportation.
To learn more about the organization and view upcoming events, visit callcris.org or call 655-5743.
Vote on this Story by clicking on the Icon