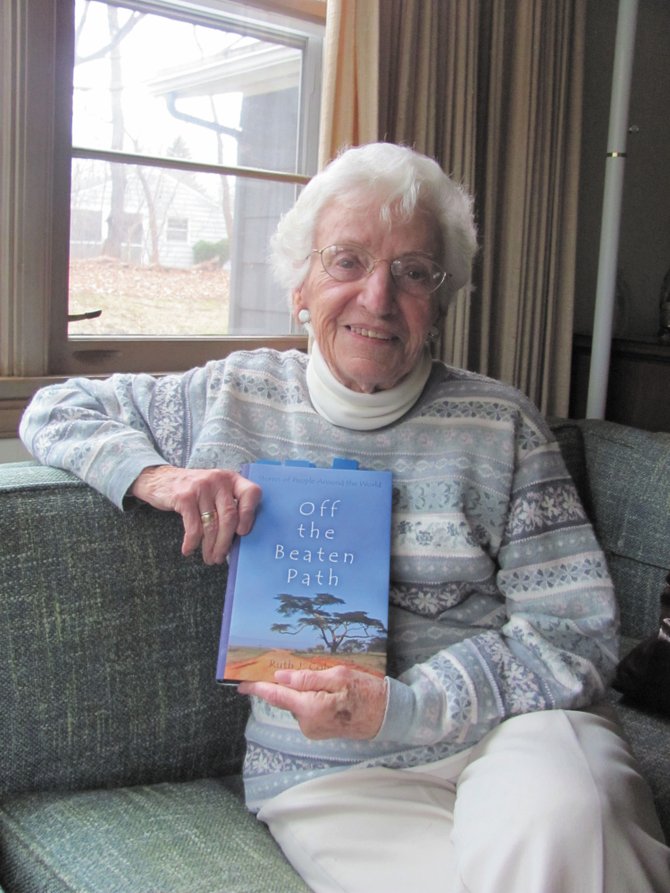 Ruth Colvin loves to read. At 95, one of the things she credits for keeping her mentally sharp is that she reads a "tremendous" amount, and a desire to share the gift of reading with others has led her on a path that has taken her around the world.
As founder of Literacy Volunteers of America Inc., which then became ProLiteracy, Colvin was invited by universities, religious organizations and the International Executive Service Corporation to share her skills in native language literacy and English as a second language training.
So it would seem a natural fit that someone who not only enjoys reading, but has helped others to discover the world of books would switch hats from reader to author.
In her travels, Colvin met people from all walks of life —a holy man in India, a banned leader and a revolutionary in the apartheid system of South Africa. She's met lepers in India and Madagascar, Chinese Communists and survivors of Pol Pot's Cambodia.
In her book, 'Off the Beaten Path, stories of people around the world," Colvin discusses nine countries and shares 92 stories about people she has met.
The recipient of nine honorary doctorates, Colvin was given the highest award for volunteerism in the United States, the President's Volunteer Action Award, in 1987. She received the Presidential Medal of Freedom in 2006 and was inducted into the National Women's Hall of Fame in 1991.
Colvin is appreciative of the opportunities that she has been given, but said her most rewarding adventures were connecting with individuals from vastly different backgrounds and experiences, learning about their cultures and traditions, and discovering the many similarities all people share.
"In my many travels around the world, I kept journals of my experiences," Colvin said. "This book has been an opportunity to share some of these experiences with others."
(Continued on Next Page)
Prev Next
Vote on this Story by clicking on the Icon