Cazenovia resident Chary Griffin recently traveled to Auckland, New Zealand, with her husband, Jim, but sightseeing and observing the Kiwi culture were low on her to-do list.
Griffin had her sights set on participating in the International Triathlon Union 2012 Barfoot & Thompson World Triathlon Grand Final on Oct. 22, where she swam .93 miles, biked 25 miles and ran 6.2 miles — all in a total of 3 hours and 50 minutes.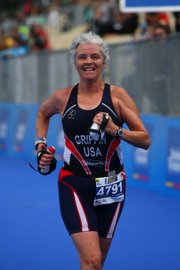 Griffin finished eighth for the 60-64 Female age group, and 22nd place in the world.
"When I grew up, it was a known fact that running was bad for women. There were very few sports available to girls in school. They weren't encouraged to be athletic, it was sort of frowned upon," Griffin said. "The reason I do this is to show other people it can be done. You're never too old. Anybody can make a goal and accomplish it."
The Griffins returned to Cazenovia on Wednesday, Oct. 24, and Chary was back on the job in the local Hunt Real Estate office at 95 Albany St. the next day.
She qualified to participate in the World Championship during a National Championship race about two years ago in Burlington, Vt., and has since secured her admittance into next year's worldwide competition in London, after finishing another race in Burlington last year. In 2013, she will compete in the 65-69 Female age group.
Griffin trains professionally with T2 Multisport in Manlius, where she is able to employ the latest technologies to gain insight on her performance and increase her power output with each workout. In between trips to T2, Griffin stays in shape by running on the Cazenovia High School track, and snowshoe racing during the winter months — this season she will direct the NYS Championship at Highland Forest. While she has competed in numerous states and countries, including Australia and Budapest, she says the varied terrain of Central New York has given her the upper hand while training.
(Continued on Next Page)
Prev Next
Vote on this Story by clicking on the Icon