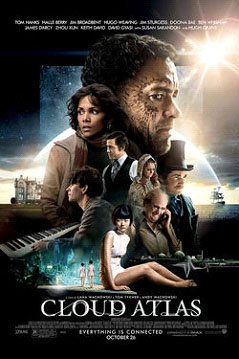 "Cloud Atlas" is a large, totally consuming movie spanning six chronologically disparate stories. You need patience and an open mind to see this film, but by all means, you should see it.
This is, by far, the most interesting and entertaining movie I have seen this year.
This movie defies simple explanation. By analogy, think of six broad concentric rings, all turning independently. Each ring represents story and character of different time and place. There are spaces, or gaps, in each of the rings.
As the rings rotate, the gaps align with one another and a tumbler falls in place, filling the gap. But, as each tumbler falls, as one gap is closed, another gap in another ring opens.
In "Cloud Atlas," the explanation is that "…as every door closes another one opens." It is not so much reincarnation as it is a description of the continuity of life, of lives, across generations. The thread is undefined by location, family, chromosomes, or DNA.
A murderous doctor in the nineteenth century Pacific islands is bonded to a London innkeeper in 1936, to a nuclear physicist in 1973, to a magistrate in Neo Seoul in 2144, and a clansman in the surviving community years thereafter.
This composite story, seemingly impossible to portray on film, is six separate scenarios in six different timeframes that come together as one.
The principals (Tom Hanks, Halle Berry, Jim Broadbent, and others) all play multiple, varied roles. It is fascinating to see these actors in different time phases, different contexts, and they all are very good.
But, the key to this film is its direction and editing. Lana and Andy Wachowski and Tom Twyker have pulled many separate threads, moved them at warp speed, and simultaneously woven them together as one.
It's a great ride.
Jim Wigge is a retired engineer, Cazenovia resident and film-aficionado, who reviews movies for the Cazenovia Republican. He can be reached through the editor, at editor@cazenoviarepublican.com.
Vote on this Story by clicking on the Icon