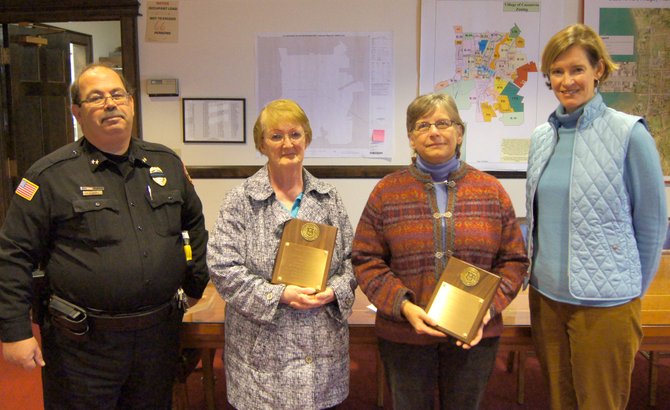 Cazenovia — Muriel Stevens and Suzann Davies, two of the Cazenovia Central School District's most dedicated crossing guards, were honored by village officials for their combined 53 years of service to the youth of Cazenovia.
During a recent village board meeting, trustees passed an official resolution commending the two women for their devotion, and both Stevens and Davies were presented plaques by Cazenovia Chief of Police Mike Hayes and Deputy Mayor Amy Mann on Oct. 30 in the Municipal Building.
"The crossing guards work tireless hours in all types of weather. There was a time when the school held students and the guards were unfortunately stuck out in the rain for an extra 45 minutes when they didn't need to be; but they stayed," Hayes said. "To have this level of dedication is something the village should appreciate — and really does."
Stevens was recognized for her 30 years of service, which she said she completed in intervals as her children grew up and eventually graduated from the district.
She can be found at her regular post, the corner of Albany Street and Willow Place every weekday morning and afternoon, helping countless children cross the busy street.
Davies was thanked for her 23 years with the district, helping students navigate the intersection of Burton and Fenner streets safely. Like Stevens, she also became a crossing guard when her children were younger. A resident of Fenner Street, she has enjoyed the short commute over the past two decades.
"It was convenient for me, I live right near the corner where I cross the kids," Davies said. "I had two young children when I started, so it was nice to be there and see them off to school and welcome them back home when they returned."
During the informal ceremony last Tuesday, both village officials thanked the women, and Mann read the resolution aloud. "Whereas it is the first and foremost goal of the Cazenovia Police Department to protect and serve the community, particularly its youngest members, and whereas Davies' and Stevens' diligent and steady work providing safe passage to and from school to the community youth is vital to this goal, now therefore be it resolved the village of Cazenovia Board of Trustees recognizes and commends Muriel Stevens and Suzann Davies for their faithful service."
(Continued on Next Page)
Prev Next
Vote on this Story by clicking on the Icon