Cazenovia — Three days after America decides who will occupy the White House for the next four years, top political pollster John Zogby will offer his views and analysis on the election results at a Cazenovia Forum event at 7 p.m. on Friday, Nov. 9, at St. James Roman Catholic Church, 6 Green St. in Cazenovia.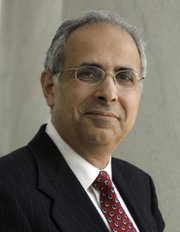 Hailed by major media and political operatives for his polling accuracy and his insightful analysis of America's political and cultural landscape, Zogby will offer his perspectives on the voting outcome in a lecture titled "A Portrait of the Winning and Losing Coalitions."
"Many will remember that we had John Zogby speak at the Forum shortly after the 2008 elections, and what a treat it was to hear his deep dive into voting patterns and trends," said Cazenovia Forum President Cindy Sutton. "We are enormously fortunate to again have one of America's premier political pollsters on hand — just three days after the votes are counted — to go through the results and provide his unique perspectives on what happened in voting booths across the nation."
The event is free, no reservations or tickets are required and audience members will have the opportunity to ask questions of the speaker.
Those planning to attend are advised that the venue for this event has been changed to St. James Church from the Catherine Cummings Theatre, which normally hosts Cazenovia Forum lectures. There is ample parking in the church's lot off Sullivan Street.
As author of The New York Times bestseller, "The Way We'll Be: The Zogby Report on the Transformation of the American Dream," Zogby continues to put his finger on the pulse of America, creating a portrait of the trends that drive our society today, and in the future. He writes a weekly column for Forbes.com, a weekly report card on President Obama's performance for The Washington Times, and a monthly column for Politics magazine.
A well-known political and social pundit, he has been interviewed by every major US news and cable network, and has served as an election analyst for the BBC, CBC and Al Jazeera, among others.
The Cazenovia Forum is a 501(c)3, non-profit organization established in 2006 by community members focused on promoting the understanding and discussion of national and international issues.
Vote on this Story by clicking on the Icon