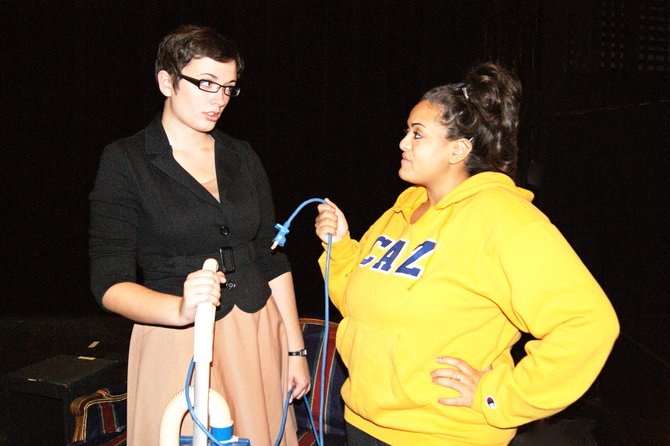 Cazenovia — Cazenovia College will present a production of "The Female Odd Couple," a 1985 adaptation by Neil Simon of his 1965 Broadway hit, "The Odd Couple."
The production will be staged on two weekends, Friday, Nov. 9 through Sunday, Nov. 11, and Friday, Nov. 16, through Sunday, Nov. 18. Friday and Saturday performances begin at 8 p.m.; Sunday performances begin at 2 p.m.
Admission for adults is $10, for students $5.
The director of the play is David Lowenstein, Cazenovia College's artist in residence.
"This is our first time tackling a classic American comedy by the classic American comic playwright. Our focus is on developing real relationships between the characters and then allowing the extreme circumstances to dictate the actions that make the audience relate," Lowenstein said. "It is the audiences' recognition that manifests in laughter."
The Odd Couple premiered on Broadway in 1965, and was followed by a successful film and television series, as well as other derivative works and spin-offs.
The Female Odd Couple is based on the same story line and same lead characters, renamed Florence Unger and Olive Madison. The poker game became Trivial Pursuit, and their friends were renamed Mickie, Sylvie, Vera, and Renee. The Pigeon sisters became the Costazuela brothers, Manolo and Jesus.
Cazenovia College students are involved in every aspect of the production, including costuming and set design.
"The female version is set in 1985 and we will be looking at those specifics to be clear in our production design choices," Lowenstein said. "This year, to involve all the talented students who auditioned, I have cast understudies, who will each perform in at least one show during the run."
The Catherine Cummings Theatre at Cazenovia College is located at 16 Lincklaen St. in Cazenovia. Event tickets are available at the door before the event, and may also be purchased by calling 655-7827, or at Cazenovia Jewelry on Albany Street in Cazenovia.
For event information contact Theater Manager Colleen Prossner at 655-7238 or cprossner@cazenovia.edu.
For additional information regarding the theater, visit cazenovia.edu/theatre.
Vote on this Story by clicking on the Icon