Madison County recently announced lifetime local resident Tara Truett has stepped up to lead the Madison County Reads Ahead program.
Madison County Reads Ahead is a grant funded countywide organization. It is the sole provider for free one-on-one ABE/GRE/ESL tutoring of adults by a core of literacy volunteers.
MCRA grew out of 2003 outreach efforts at the Oneida Public Library. In 2006 with CNY Community Foundation funding and Morris Atwood's leadership, the MCRA grew across the county. Public Libraries across the county bought into the program, funding their own local coordinators and offering space and technology for tutoring.
Currently, Oneida, Canastota, Chittenango, Bridgeport, Cazenovia, Morrisville and Hamilton are supporting five local coordinators. MCRA has 102 tutors and 77 students. In 2011-12, 36 GEDs were successfully completed.
Working closely with each of the several local coordinators, Truett's new role as program coordinator involves central administration, tutor training, performance management and fund development.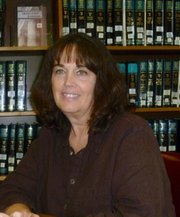 Truett brings MCRA more than 30 years of education experience. She spent 20 years as a special education teacher and administrator in Hamilton. She also taught GED through Madison-Oneida BOCES for ten years and served as the Education Coordinator for Madison County Head Start.
Retired since 2011, Truett is excited to return to education and looks forward to working with the wonderful communities of committed tutors and learners.
"Until I became a part of Reads Ahead, I never knew the extent of the caring, hardworking people who give of their time and talents to help those seeking to improve their lives and the lives of their families," Truett said.
"Her experiences and skills are exactly what is needed to continue the program's core mission and help lead it into new areas," said Jay Dunn, Executive Director of the Madison County Literacy Coalition. The Literacy Coalition is working with Reads Ahead to both expand the areas covered and expand the services offered.
(Continued on Next Page)
Prev Next
Vote on this Story by clicking on the Icon