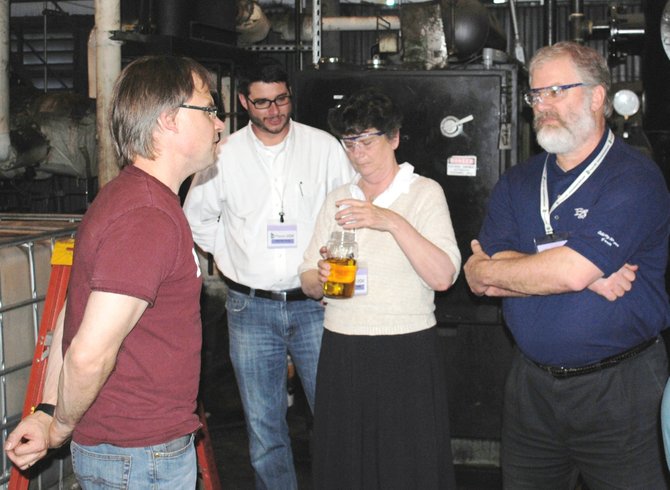 A new program on the Madison County Department of Solid Waste's drawing board purports to safely and economically recycle Agricultural (AG) and rigid plastic, which will help the environment, save space in the county landfill and also help to solve a longstanding problem for area farmers.
The plan is to turn plastic back into usable diesel fuel.
Madison County is striving to find a solution to effectively recycle AG and rigid plastic. These efforts are arousing the interest of neighboring counties that have expressed interest in learning more about this new process and their support of Madison County's efforts.
"Everyone wants more details and wants to know when we plan to start the program," said Director James A. Zecca.
He has visited a number of counties to discuss the new AG and rigid plastics to oil program and last month, Zecca, along with Solid Waste Committee Chairman Jim Goldstein and other Madison County representatives, met with the chief executive officer and the chief operating officer of JBI. Inc. of Niagara Falls to get the ball rolling.
JBI Inc. has discovered a way to "crack the code," and turn plastic back into diesel fuel. Their plant in Niagara Falls is an innovative North American fuel company that transforms unsorted, unwashed waste plastic into ultra-clean, ultra-low sulphur fuel without the need for refinement. JBI Inc.'s patent pending Plastic2Oil (P2O) process is a commercially viable, proprietary process designed to provide immediate economic benefit for industry, communities and government organizations with waste plastic recycling challenges.
JBI Inc. is committed to environmental sustainability by diverting plastic waste from landfill and potential incineration.
Diversion of items that don't biodegrade and take up space in the landfill is a concept that has long been the mantra for the Madison County Department of Solid Waste under Zecca's leadership.
(Continued on Next Page)
Prev Next
Vote on this Story by clicking on the Icon