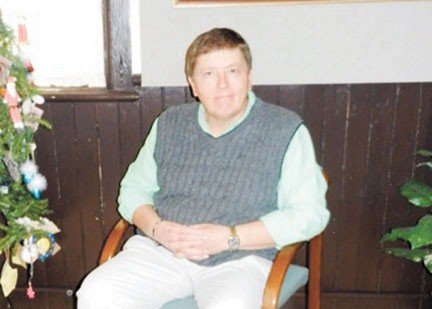 Baldwinsville — Dick Clarke spoke at the museum on Veterans' Day 2012.
Clarke covered his memories from about 1950 to the mid 1960s. He retired from the Post Standard in 2007 after 36 years where he wrote for the sports section. Clarke, who currently works at the NYS Fair, is a village of Baldwinsville trustee and coached sports for 30 years, is married to Linda and they have three sons.
Clarke lived in the Syracuse University area until age 12 when in 1958 the family bought the house next to the Gates Funeral Home for $10,000. His parents, Lucille and Barney, grew up in Baldwinsville. Barney, a WWII veteran, grew up in the Hardscrabble area in Van Buren. Lucille grew up on Mechanic Street, graduated in 1939 and was a RN at Crouse Hospital. His parents were life members of the Greater Baldwinsville Ambulance Corp; Barney was a driver and Lucille provided first aid.
Clarke has two sisters who live in Baldwinsville – Cindy, who used to be a cheerleader, and Wendy, who used to work at the Messenger and is married former mayor Andy Dryden.
Clarke knows many people in the village, either by relation, acquaintance or friends. Growing up in the center of Baldwinsville allowed him and his family to build many friendships. According to Clarke, in those days, everybody knew everybody and nobody locked their doors and growing up in Baldwinsville gave him the best memories. From neighbors such as Clarence Doc Collins who lived next door and listened to Yankee games with him to the coaches at school such as Ote Sennett, Arkie and Jim Pelcher, who watched over him, made it the best place to grow up.
Some of the places they would walk to right from home were The Corner Pharmacy where you could get a cherry phosphate and Woolworths's where banana split were 39 cents. Troy Market, Titcombs variety store and Deckers, where you could buy clothes, were other village hotspots as well as Sam's Pizza, which was the only pizza parlor. Sam's was next to Gene and Joes Barber Shop and the Palace Theater (located where Seneca Federal drive thru is now), where you could watch a movie with soda and popcorn for one dollar. Other memories Clarke recalled were Pat Wysocki working at Barnes Dairy, the Elizabeth Street School where the Teen Canteen was, going to the Moose Club for fish dinners and to dances at the Masonic Temple, VFW and Mercer Park. He also recalled going sledding on McCarthy Hill.
For those that would like to and hear Dick Clarke tell you more names from the past, it will be shown on PAC-B TV, so watch for the list in the Baldwinsville Messenger.
Vote on this Story by clicking on the Icon