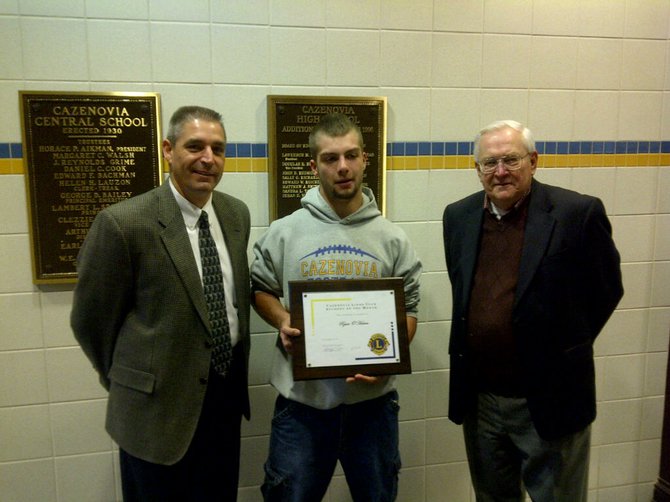 Cazenovia — Every year, the Cazenovia Lions Club honors a number of local students for their academic and civil accomplishments by honoring them as a "Student of the Month." The designation is based upon exemplary school and/or community service exhibited by the young resident. The students who receive the honor will each be acknowledged at a gathering of the Cazenovia Lions Club at the end of the school year.
September
Ryan O'Herien, a sophomore at Cazenovia High School, has been selected as Cazenovia Lions Club Student of the Month for September 2012. Ryan is the son of Thomas O'Herien and Christina Pierce, of Cazenovia.
O'Herien's nomination was submitted by Janet Goris, a member of the Cazenovia Central School District Staff.
"After school on Friday, Sept. 28, I was waiting for my daughter in my car in front of the high school. It began to rain and I noticed a young man, a new student to our school, running toward the bus circle ... his books shifted and began to fall, along with several water bottles, onto the wet sidewalk and grass all around him. He stopped, crouched down and began gathering his belongings," Goris wrote on O'Herien's nomination form. "Then I noticed a group of young men ... [on] the same sidewalk as the new student, who was now crouching ... trying to pick up all of his belongings. One of these young men, who was later identified to me by my daughter, was Ryan O'Herien. He seemed like a much larger student than the new student who was still on the ground, and that is why he stood out to me. Ryan and his group of two or three young men approached the new student and I saw them all stop. I saw Ryan begin to start helping. Ryan picked up the student's water bottles and assisted the student in trying to balance the bottles on his books in his hands. The student was still having difficulties with all of his books and bottles, so Ryan grabbed his nylon bag and slung it over the student's right shoulder for him. Then Ryan and his ... group hurried along their way to the front of the school and the new student continued running to catch his late bus."
(Continued on Next Page)
Prev Next
Vote on this Story by clicking on the Icon