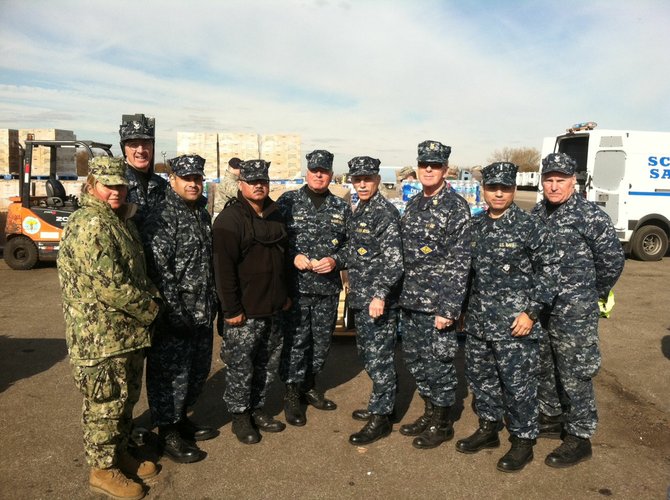 Marcellus — Captain David J. Tucker of Marcellus has his plate full. He is a Rear Admiral and Deputy Commander in the New York Naval Militia. His list of military decorations — including the Defense Meritorious Service Medal, Navy and Marine Corps Achievement Medal and other campaign, unit and service awards — speaks for itself. Tucker, however, does not consider himself a hero, though his past and present actions, especially in the wake of Hurricane Sandy, definitely make him out to be one.
"It's the men and women who I've worked with," Tucker said of who the real heroes are. Tucker served two service tours, one the day after the storm hit, and one on Nov. 11.
When Tucker first arrived in New York City, the damage was overwhelming. "It was a mess," he said. "Just like Irene last year, there were roads closed, there were trees down, power lines down. Each house had like a mountain of debris in front of it.
He and his troops had to control the chaos around them, and quick. "The first tour, the troops were arriving and they were just a group of people, they had to get organized. We have to give a briefing every morning. Every group gave a briefing to Brigadier General Swezey — here's the situation, here's how many people we have, here's our equipment, here's how many boats we have. That takes a lot of work. You have troops in the field, and that's dynamic, and you're getting in contact with them. Swezey is a great guy, a natural leader."
The day after the storm hit, six patrol boats were launched into the water at Breezy Point to remove debris and collect boats that were floating around haphazardly in the rough waters. This mission took a day. Later on, two boats were launched to Fire Island, to guard the area from looters from dawn to dusk.
(Continued on Next Page)
Prev Next
Vote on this Story by clicking on the Icon