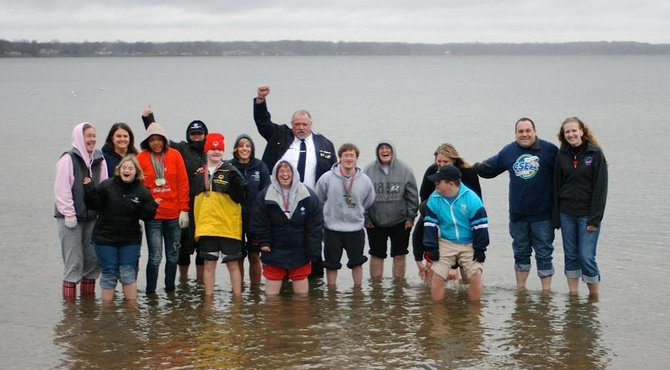 This Sunday, Dec. 2, Special Olympics New York athletes and Cazenovia residents, Diane Budnar and Ryan Goldacker, will help lead the Sixth Annual Central New York Polar Plunge at Oneida Shores in Brewerton, with members of the Law Enforcement Torch Run.

"Nearly 500 people are expected to take the plunge with friends, family and colleagues cheering them on. This is wacko-fun for all ages," said Cassandra Rucker, director of development for the Special Olympics New York.
Registration will begin at 9 a.m. on Sunday, with the plunge taking place at noon.
Everyone raising $100 or more will receive an official Polar Plunge sweatshirt, non-plungers will have the option of receiving a "Too Chicken To Plunge" shirt.
Presenting sponsor Dunkin' Donuts will provide coffee and donuts.
Special Olympics is the largest amateur sports organization in the world. With over 52,000 athletes, Special Olympics New York is the largest chapter in North America and the sixth-largest chapter in the world. Special Olympics New York athletes train and compete year-round in 22 sports, the Young Athletes Program and the Motor Activities Training Program — at no cost to the athlete, their families or their caregivers.
In 2011, Law Enforcement Torch Run events, including Polar Plunge, raised more than $1 million statewide.
To register online, visit tinyurl.com/CNYPlunge2012. For updates, visit the organization's Facebook page at facebook.com/CentralNYPlunge.
For more information, contact Rucker at 314-6839 or crucker@nyso.org.
Vote on this Story by clicking on the Icon