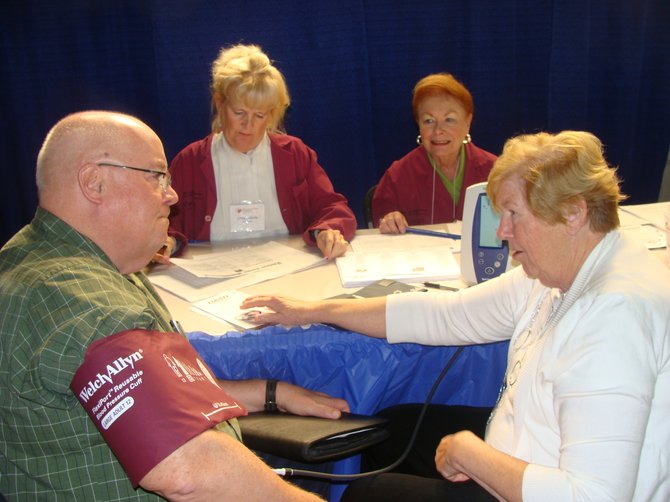 Geddes — Francis Bacon certainly had it right back in 1597 when he said, "Knowledge is power."
Recently that became crystal clear when, attending last month's Senior Fair, a record number of senior citizens flocked to the Fairgrounds to obtain the latest information pertaining to people of our age group. More than information though was being freely dispensed. There were demonstrations, exhibits, live music and refreshments, health screenings, and plenty of knowledgeable people ready and willing to answer questions.
The Senior Fair, which took place this year on Sept. 27 in the Horticultural Building at the New York State Fairgrounds, was originated back in 2004 when State Sen. John DeFrancisco saw a need to bring seniors together, not just for fun and entertainment, because there is plenty of that, but for all the information and help they might be seeking from the people and the organizations who routinely address seniors' special interests.
What started humbly eight years ago has grown immensely. As the senator commented: "Normally we have around 70 exhibitors on hand for the fair, but this year the number is 90, and we will be breaking all the records for attendance, too. More seniors attended this year than ever before. In fact, they started to arrive around 8:30 this morning, and we open at 10!"
It was easy to see why. To have 90 exhibitors conveniently located in one huge building is a blessing. Several hundred people were able to move about freely, viewing displays, speaking with politicians, asking questions of experts in various fields like insurance, health-care, meals on wheels, independent living, etc., and just socializing. With plenty of tables and chairs, friends were catching up on news over coffee or cider and listening to the live music played by the Mickey Vendetti band, mostly from the 50's.
DeFrancisco, along with his wife Linda, were on hand for photographs and eager to meet and greet anyone wanting to speak with them or ask a question. Other politicians represented at the fair were Assemblyman Don Miller and Congresswoman Ann Marie Buerkle.
(Continued on Next Page)
Prev Next
Vote on this Story by clicking on the Icon