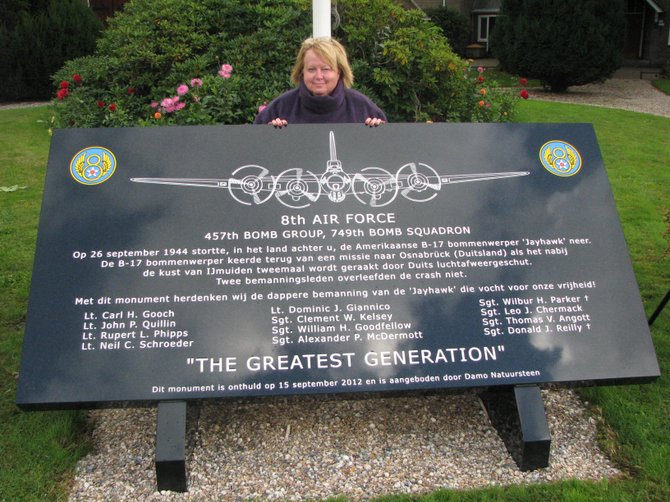 Fayetteville — The story of how Sheila Vester, Fayetteville-Manlius High School Class of '72, was reunited with her father's military past is unlikely.
It all started in 2001, when Dutch archivist Erwin de Mooij came across some boxes of unknown materials, which he found to be from the wreckage of the Jayhawk — a B-17 bomber that crashed between the Dutch towns of Lisse and Sassenheim on Sept. 26, 1944, during World War II. The plane parts had been archived in 1986 after being unearthed as a bulb field was dug up.
The plane was flying from England to Osnabruk, Germany, on a mission to bomb a railway supply depot, and on its way back to England its nose was blown off by German navy flak. One crew member was fatally wounded in the crash, while the other eight crew members jumped into the lake below; one of them drowned.
"Of the seven survivors, three were caught by Germans and four were hidden by Dutch farmers," said Vester, a nurse who now lives in Lancaster, N.Y. "And of those three that were caught by Germans, one of them was led on a death march but survived it."
The Dutch writer Harold Jansen had written a few pages about the crash in his book "Flight 648," but de Mooij wanted to know more.
"So I wrote a short message on the 457th bomb group website and soon I received an email from the son of the co-pilot and later from the daughter of the ball turret gunner," he said.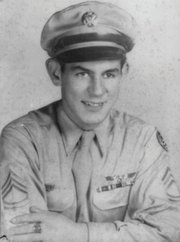 That gunner would have been United States Army Air Corps Sgt. William Goodfellow, Vester's father, at age 19, had he not shot himself in the hand while cleaning his gun the night before, leaving him in the hospital. Leo Chermack took his place in the mission.
(Continued on Next Page)
Prev Next
Vote on this Story by clicking on the Icon