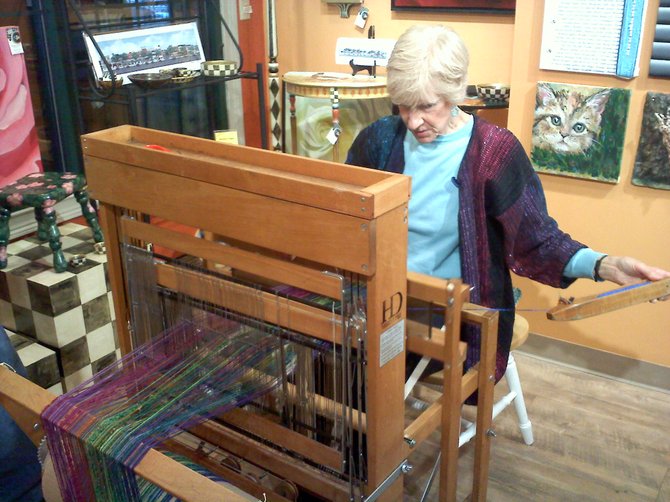 Cazenovia — Despite a rainy start, the first annual Cazenovia Art Trail opened Saturday, Oct. 6, to a steady stream of enthusiastic visitors from the immediate and surrounding areas, and from as far away as Utica and Oswego. They saw live demonstrations that included pot throwing, weaving on a loom and wood carving, and had the chance to meet many artists while also getting to tour the artists' studios and display areas.
From metal sculpture in a variety of styles, to photography, ceramics, weaving, wood carving, landscape painting, pastel work and portraiture, the Cazenovia Art Trail had something for everyone. Homes in the village and nearby area were opened to display working spaces and artistic treasures few people may have known about until now.
Recent art school graduate Erica Scholl, who lives in the Utica area, came to Cazenovia with her mother specifically to visit the Art Trail. "Not only is the art I saw today amazing, inspiring and world-class quality, I was blown away by the graciousness and hospitality of the artists," she said. "I will definitely come again next year."
This year's trail continues from 10 a.m. to 5 p.m. Saturday, Oct. 13.
Maps of the trail are available at Cazenovia Artisans and can be downloaded at art-trail.org. All artists' locations will be marked with a sign along the road on the day of the trail.
For more information visit art-trail.org or email arttrail@cacda.net.
Jennifer Wielt is public relations coordinator for the Cazenovia Art Trail. She can be reached at arttrail@cacda.net.
Vote on this Story by clicking on the Icon