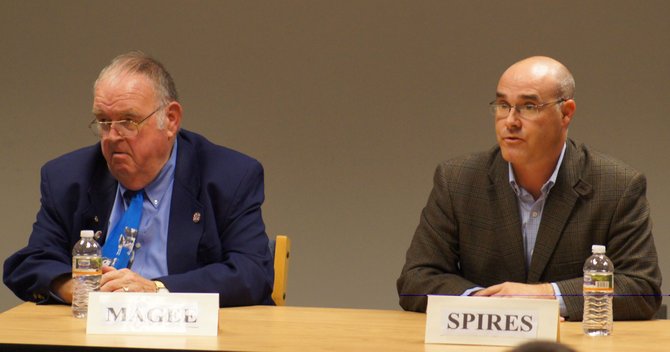 Cazenovia — On the evening of Oct. 18, a crowd of about 60 area residents packed the Cazenovia Public Library Community Room to observe a candidate forum for the two politicians seeking a seat in the 121st Assembly District. The Cazenovia League of Women Voters hosted and moderated the forum, in which incumbent Assemblyman Bill Magee and newcomer Levi Spires participated.
The newly-drawn 121st District covers all of Madison County, much of Otsego County and a portion of Oneida County. Assembly members serve two-year terms.
Magee, who has held the seat of Assemblyman (originally for the 111th District, before the redrawing) since 1990, is running on the Democrat party line. He is a resident of Nelson and chair of the NYS Assembly Agriculture Committee. A longtime supporter of area farmers and the agricultural community, Magee said he hopes to see the industry continue to grow and find ways to get Central New York produce to downstate customers.
"I feel as if I've made a real difference in our communities and tried hard or represent all residents," Magee said during the forum. "There are still things I can help with. I'd like the opportunity to go back to Albany for [another term] and further address some of the issues we're seeing right now, such as consolidation and reduction of state [aid]."
A former captain of the United States Air Force, current Cazenovia resident and internet-marketing professional, Spires is running as a conservative Republican and has received endorsements from both the Madison and Otsego County Republican committees. Spires said he hopes to reduce the tax burden on area businesses and residents by facilitating job growth through adopting a strategy of fiscal prudence, simple government and entrepreneurship.
"Small things haven't worked, the numbers manifest themselves. We've lost so much of our youth, there are only [about] 27 percent of people under the age of 35 living in the three counties I'd represent. We don't have to manage the slow decline of our region," Spires said. "I don't blame Assembly Magee for any of this, it's not his fault. We need major reform in New York state. I believe I have the education … experience … and enthusiasm to lead this effort."
(Continued on Next Page)
Prev Next
Vote on this Story by clicking on the Icon