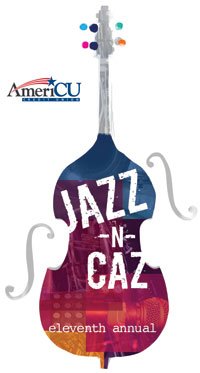 Swing fans will flock to the 11th annual Jazz'N Caz fest at Cazenovia College, Friday and Saturday, Sept. 21 and 22, at the Catherine Cummings Theatre, but the festival kicks off informally at 7:30 p.m. Thursday, Sept. 20, on the lawn at the Brae Loch Inn with a blues-rock band named Gent Treadly. In case of rain, the Manhattan-based trio will move inside the spacious restaurant. Admission is free.
Friday night kicks off at 7:30 p.m. at the Catherine Cummings Theatre with a trio featuring three nationally-known artists, guitarist Bucky Pizzarelli, bassist Nicki Parrott and drummer and vibraphonist Chuck Redd.
At 9 p.m. Friday, Sept. 21, the Vince Falcone Quartet will take center-stage, and the musicians are expected to reconvene for an after-hours jam session about 11 p.m. at the Seven Stone Steps, at the Lincklaen House, 79 Albany St; 655-3461. The house band at Seven Steps will feature pianist Tom Witkowski, bassist John Dancks, drummer Jason Jeffers and vocalist Ria Curley. Jazz'N Caz founder Colleen Prossner will also sing.
Gap Mangione's New Big Band returns to Jazz'N Caz for the second year in a row at 7:30 p.m. Saturday, Sept. 22. With its complement of three trumpets, three trombones, four saxophones, rhythm section and vocalist, the Mangione ensemble performs arrangements from the Swing Era, a few modern big band charts and a cross-section of pop music arranged specifically for the group.
When he attended Syracuse University, Gap worked as house pianist at the 1,200-seat Three Rivers Inn accompanying the likes of Sammy Davis, Jr. and Nat King Cole. He later joined the Salt City Six. He regularly appeared as a guest artist on brother Chuck Mangione's orchestra tours and recordings. After the big band's sets — which will include tunes by Cazenovia College alumnus Jimmy Van Heusen — Mangione and his musicians will likely wander over to the after-hours session at the Seven Stone Steps.
To view the entire Jazz'N Caz schedule, visit cazenovia.edu/jazz.
Russ Tarby is a contributing writer at Eagle Newspapers. He can be reached at russtarby@netscape.net.
Vote on this Story by clicking on the Icon