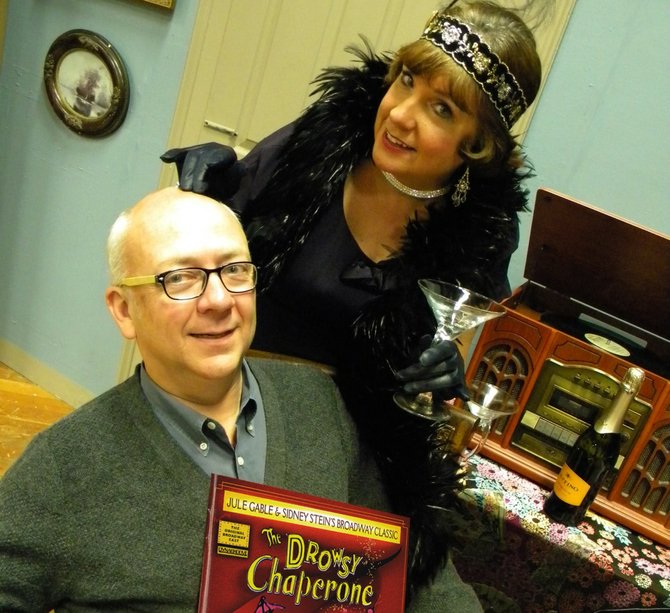 Baldwinsville — Finally, a musical about people who adore musicals!
The Baldwinsville Theatre Guild will present the uproarious musical comedy "The Drowsy Chaperone" beginning Jan. 18.
This rarely-performed musical (music and lyrics by Lisa Lambert and Greg Morrison, book by Bob Martin and Don McKellar) won the 2006 Tony Award for Best Book and Best Score.
"The Drowsy Chaperone" pays tribute to the Jazz-Age shows of the 1920s and their power to transport us into a dazzling fantasy and to lift our spirits in hard times. It all begins when a die-hard musical-theater fan plays his favorite cast album on his turntable and the musical literally bursts to life in his living room. The audience is swept into the glamorous and hilarious tale of a reluctant stage star bride, a groom on skates, a tap-dancing best man, a womanizing gigolo, gangsters posing as bakers and an intoxicated chaperone. You'll still be smiling long after the final bow.
Performances are at 8 p.m. Jan. 18, 19, 25, 26, Feb. 1 and 2 with one matinee performance at 2 p.m. Jan. 27, and runs approximately 90 minutes with the Guild's traditional dessert intermission at the Presbyterian Education Center, 64 Oswego St., Baldwinsville.
The cast includes BTG veterans and Syracuse veterans Mark Baker (Man in Chair), Kathy Egloff (Chaperone), Korrie Taylor (Janet), Peter Dowling (Robert), Maxwel Anderson (Aldolpho), Deborah Taylor (Mrs. Tottendale), Doug McCall (Feldzeig The Producer), Kate Kisselstein (Kitty), Donnie Williams (George), Harlow Kisselstein (Underling), Josh Taylor/Marlina Beebe (Gangster no. 1), Briana Duger (Gangster no. 2), Marguerite Beebe (Aviatrix) with Kate Hoy and Donna Smith (ensemble).
The show's producer is Heather Jensen, director and choreographer is Stephfond Brunson and musical director is Abel Searor. Tickets are $20 for adults, $18 for students and $18 on matinee day only for seniors. To reserve tickets, call the box office at 877-8465 or visit baldwinsvilletheatreguild.org.
Vote on this Story by clicking on the Icon