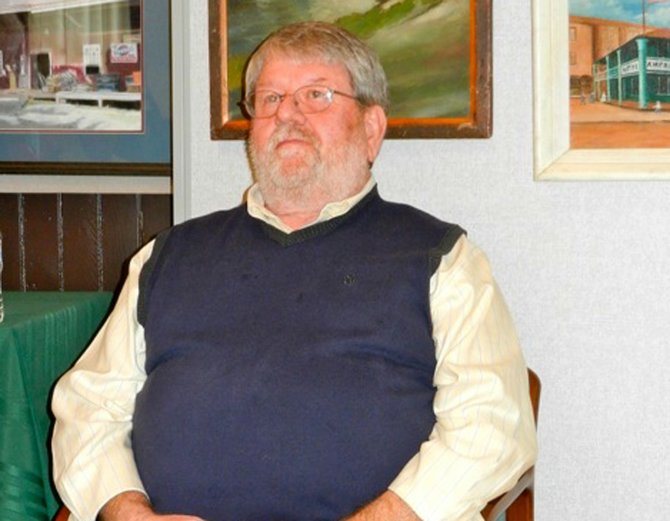 Baldwinsville — Maysel "Mace" Markham took listeners down memory lane on Sunday, Jan. 13, when he was the featured speaker for the Museum at the Shacksboro Schoolhouse's series "Remembering Baldwinsville."
Markham, a retired Village of Baldwinsville Highway Department Foreman, currently serves on the Village Planning board, the Canton Woods Senior Center Board and the Memorial Day Parade planning committee with his wife, Peg, and Jack and Sarah Baker. He grew up in Lysander and attended Baldwinsville schools – a three-room schoolhouse from first through sixth grade and his class was the first seventh grade class to attend Durgee Junior High School.
Markham was originally hired in 1988 as a village mechanic and quickly learned the ins and outs of maintaining various village heavy equipment such as pay loaders and graders. This experience led him to start the preventative maintenance program in the Village of Baldwinsville. In the mid 1990s, Claude Sykes hired Markham to replace Bobby Vermette as foreman of the highway department. At first, the job involved installing storm sewer pipes, repairing storm basins and mowing parks. After a few years, the highway department changed to become the Department of Public Works, which incorporated a wider variety of duties.
Officials began applying for and receiving public and government grants to make improvements throughout the village enhancing the village's biggest asset, the river. Sergei Yevich, an architect from Baldwinsville who traveled to New Orleans a great deal, used the Big Easy's focus on its own river as a guide to highlighting the Seneca River, in turn making the village of Baldwinsville a more appealing place to live and visit.
Utilizing grants awarded to Baldwinsville, the DPW began project one – a walking trail along the southwest shore of the village, aptly named the South Shore West Trail. According to grant stipulations, the village was responsible for contributing a percentage of the overall funds, which could be made through in-kind work, namely time spent by employees and volunteers working on the projects. Markham was in charge of tracking these hours.
(Continued on Next Page)
Prev Next
Vote on this Story by clicking on the Icon