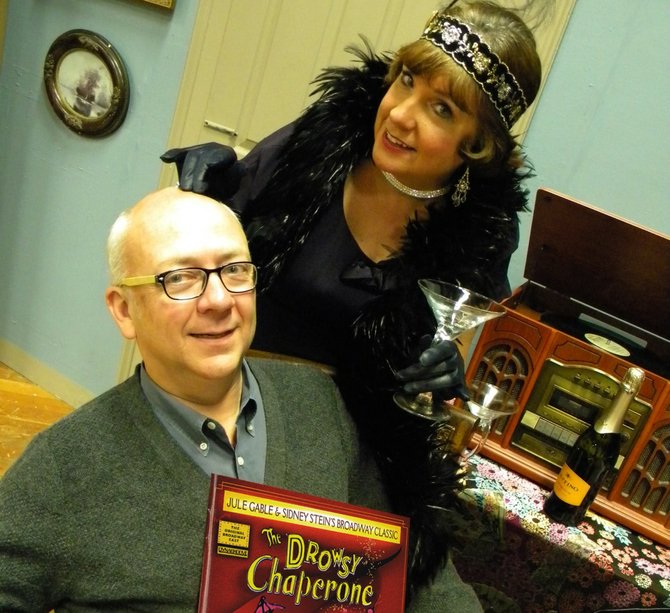 Baldwinsville — "The Drowsy Chaperone" is anything but sleepy.
In fact, as staged by the Baldwinsville Theatre Guild, the show is as perky as a caffeinated chorine gushing with personality and pizzazz. Set in the Roaring Twenties, the Tony Award-winning musical showcases 17 upbeat performers directed by Stephfond Brunson and a swinging septet conducted by pianist Abel Searor.
The action begins when a die-hard musical-theater fan played by Mark Baker spins his favorite cast LP – remember those? – and the 1928 musical comes to life in his living room. There's not much to the story, but the Man in Chair introduces us to a host of colorful characters including a reluctant bride, a roller-skating groom, a ruthless producer, an egotistical gigolo and a gin-swigging chaperone. The impending wedding hits a snag when two gangsters posing as pastry chefs threaten to cancel the nuptials so that leading lady Janet Van de Graaf can return to the stage show in which their boss has heavily invested.
Making his directorial debut with "Chaperone," Brunson carefully cast this show with proven performers who give it their all from opening scene to curtain call. The multi-talented Brunson, who appeared and coordinated the dancers in last year's "Urinetown," also choreographed "The Drowsy Chaperone." Despite the fact that there are often more than a dozen actors cavorting on stage, it never seems over-crowded. Brunson's deft direction keeps everything copacetic.
One of the niftiest dance routines pairs a best man played by an "ecstatic" Donnie Williams with Peter Dowling's groom in a carefree tap-dance called "Cold Feets." Not only does Dowling dance well, he also displays a full-bodied singing voice on "Feets" and "Accident Waiting to Happen."
Stage star bride-to-be, Korrie Taylor, hits all the right notes on "Show Off," "Accident" and – in Act II – "Bride's Lament." Like real-life Broadway stars, Taylor's a real tomato. She has a sweet, perfectly symmetrical face, full lips, a warm smile and haunting hazel eyes.
(Continued on Next Page)
Prev Next
Vote on this Story by clicking on the Icon