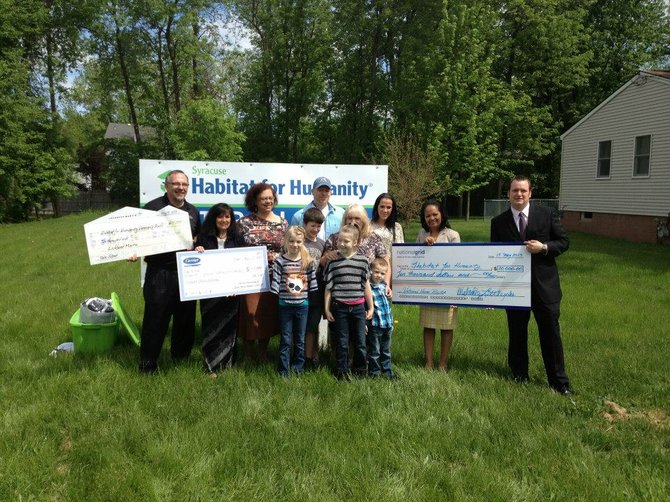 East Syracuse — This year, Syracuse Habitat for Humanity is beginning its third Veteran's Build home in Onondaga County. The build will begin this summer on the 400 block of East Yates Street in East Syracuse. The home is a 1,400 square foot ranch-style home built on concrete slab. It is specially adapted and is wheelchair accessible for those with disabilities visiting or living in the home. On May 17, an introduction ceremony was held on site to announce the family moving in and talk more about the project.
The homeowner for the third Veteran's Build home will be Scott Brennen and his two children, Arianna and Scott Jr. Brennen was in the Army for three and a half years when, during training for departure to Iraq in 2006, he fell out of the back of a Bradley tank and tore ligaments in his knee. He continued to train with his leg injury for a month and a half until he received surgery.
At that point, his unit got deployed and he had to hear of the deaths of his other comrades being killed overseas. He then was medically discharged from the Army and was forced to permanently retire. In 2008, he came home to several family and financial hardships which landed him and his two children in a Salvation Army shelter until they received assistance from the Veterans Association. Brennan and his children will be embarking on the next chapter of their lives and they will be Syracuse Habitat for Humanity's next partner family for the Veteran's Build.
"I am extremely excited that Syracuse Habitat has selected the village for this project," said Mayor Bob Tackman. "We are looking forward to participating with the building of the house. It's great to have a veteran and his family become new residents of our village."
Syracuse Habitat for Humanity took on the first ever Veteran's Build in New York state and is one of only a dozen in the entire nation to provide two specially adapted affordable homes for local veterans in need.
The home is expected to be ready for the Brennen family to move in by October 2013.
Vote on this Story by clicking on the Icon