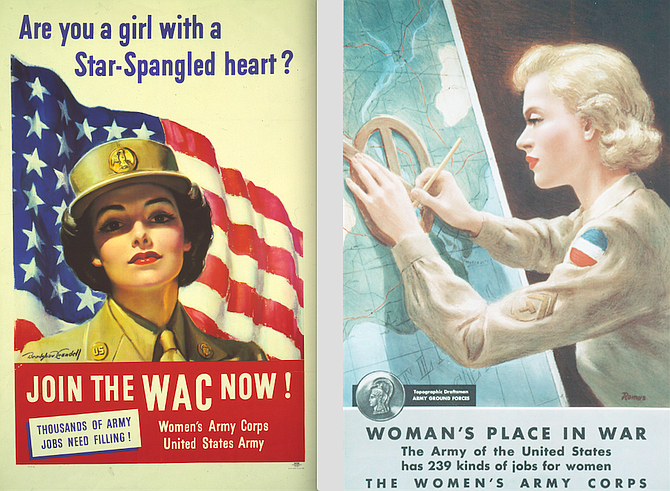 Seventy years ago this past summer, World War II came to an end. Some 16.1 million Americans served in the war between Dec. 1, 1941, and Dec. 31, 1946.
Often forgotten among that number are 350,000 women, all volunteers who signed up to join the Army, Navy, Coast Guard, Marines and Nurse Corps after 1942. While they were barred from combat, women made their own sacrifices, leaving behind home and family to serve their country in its time of need. As World War II veterans die at a rate of approximately 492 a day, according to the U.S. Veterans Administration, it's more important now than ever to share their stories.
The Army WAC
When Margaret Sims' husband Ralph joined the Air Force in 1942, she thought she should do something to serve her country, as well.
"My husband was in the service, and I wanted to do my part," said Sims, who lives in Warners.
Sims signed up for the Women's Army Auxiliary Corps (WAAC), which later became the Women's Army Corps (WAC). The WAAC was created as a result of a bill put forth by Congresswoman Edith Nourse Rogers from Massachusetts in 1942. Originally, the WAAC had no military status, but Rogers changed that with another bill in 1943 that authorized the enlistment and appointment of women in the Army. President Franklin D. Roosevelt signed the bill in July of that year, and thus the WAAC was dissolved and replaced with the WAC. Sims then reenlisted as a member of the Army, joining some 150,000 other women who served throughout the course of the war.
While her husband, a B-17 navigator pilot who flew on the D-Day mission over Normandy, was stationed in England, Sims spent the majority of her time in Cairo, where she worked in censorship.
"If [the soldiers] had anything in their letters going home —a port or a town or battalion or a company — we had to cut that out.," she said.
(Continued on Next Page)
Prev Next
Vote on this Story by clicking on the Icon