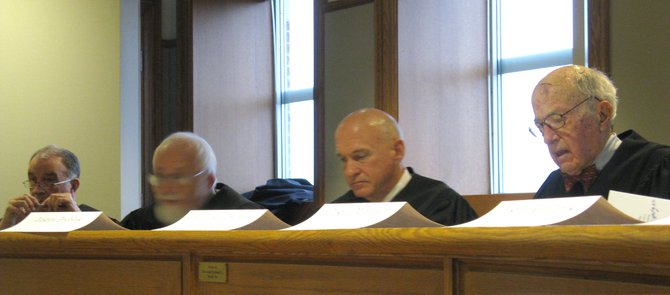 Cazenovia resident Judge Stewart F. Hancock Jr., right, reads from the docket during a mock-Supreme Court trial study on Dec. 10 at Syracuse University Law School. Beside Hancock, who acted as presiding justice, are fellow members of the "Room 400 Supreme Court"; Judge David Peebles, Professor Travis Lewin and Emil Rossi.
Stories this photo appears in:

Hancock, Koennecke assist Syracuse University Law School class
On Monday, Dec. 10 at Syracuse Law School, a panel of judges, lawyers and law professors, known as the Room 400 Supreme Court, "decided" one of the most significant and closely-watched cases on the current United States Supreme Court docket.