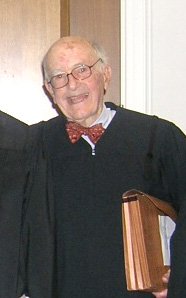 Judge Stewart F. Hancock Jr., who is currently of counsel to Goris & O'Sullivan LLP, located at 7 Mill St. in Cazenovia, presided over the "Room 400 Supreme Court" on Dec. 10 at Syracuse University Law School. The panel of legal professionals assisted students in examining the case Abigail Fisher v. University of Texas at Austin.
Stories this photo appears in:

Hancock, Koennecke assist Syracuse University Law School class
On Monday, Dec. 10 at Syracuse Law School, a panel of judges, lawyers and law professors, known as the Room 400 Supreme Court, "decided" one of the most significant and closely-watched cases on the current United States Supreme Court docket.